The Addams Family Pugsley s Scavenger Hunt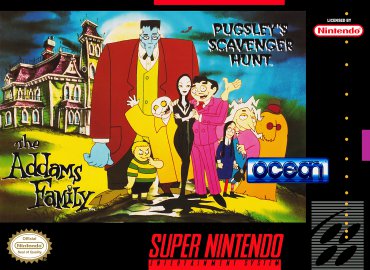 The Addams Family Pugsley s Scavenger Hunt
Date added: Unknown
Tags:None
Rated the best by our players
5 out of 5 based on 732 ratings.
Game Information:
There have been five video games based on The Addams Family television series and films, released between 1989 and 2002 on various home video game consoles. Along the way, Fester encounters other members of the Addams Family: Thing, Wednesday, Gomez, Morticia, Grandmama, and Pugsley, all of whom help him by giving him different weapons and items. The game uses Blaster Master's overhead shooter engine. Fester must travel through the city sewers to reach areas that are otherwise inaccessible due to aboveground obstacles. He may enter certain buildings, which transform the game from its standard overhead view into a 3D mode of play akin to a dungeon crawl. In most buildings, Fester encounters one of five enormous Alien Boss characters, which upon defeat will supply him with a puzzle piece, a picture of the alien's UFO, and refill all of his items. After defeating a boss, Fester will leave the building and be unable to backtrack through it to previously visited areas.
How to play:
W: = UP / Arriba
A = left / Izquierda
S = Down / Abajo
D = Right / Derecha
X = L Button
O = X Button
P = Y Button
K = A Button
L = B Button
; = R Button
Enter = Start
Shift = Select

More games you may like...