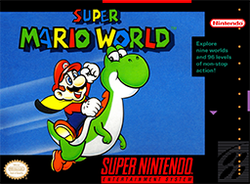 Super Mario World
Date added: 2014-12-09
Tags:None
Rated the best by our players
5 out of 5 based on 312504 ratings.
Game Information:
Super Mario World (スーパーマリオワールド Sūpā Mario Wārudo?), subtitled Super Mario Bros. 4 (スーパーマリオブラザーズ4 Sūpā Mario Burazāzu fō?) for its original Japanese release, is a 1990 platform video game developed and published by Nintendo as a pack-in launch title for the Super Nintendo Entertainment System (SNES) and is the fifth game in the Super Mario series. Development was handled by Nintendo Entertainment Analysis and Development, led by Shigeru Miyamoto, who directed the game along with Takashi Tezuka. The game centers on the quest of Mario and Luigi to save Dinosaur Land from Bowser, the series' antagonist. The two brothers must travel across seven worlds to restore order to Dinosaur Land. It built on the gameplay of previous Mario games by introducing new power-ups that augment character abilities, and established conventions that were carried over to future games in the series. Super Mario World marks the first appearance of Yoshi, Mario's dinosaur sidekick and riding mount. Super Mario World was an overwhelming critical and commercial success, selling over 20 million copies worldwide, and is considered by many to be one of the best games ever made. It has been re-released four times, first as part of a combo with Super Mario All-Stars on the SNES in 1994. Secondly, it was released on the Game Boy Advance as Super Mario Advance 2 (スーパーマリオアドバンス2 Sūpā Mario Adobansu Tsū?) in 2001 and outside of Japan as Super Mario World: Super Mario Advance 2 in 2002 with modified gameplay. The third re-release was for the Wii's Virtual Console in Japan in 2006 and in North America and PAL regions in 2007; there were no changes from the original SNES version. It was also released for the Wii U's Virtual Console which integrated Off-TV Play and Miiverse features to the game.
How to play:
W: = UP / Arriba
A = left / Izquierda
S = Down / Abajo
D = Right / Derecha
X = L Button
O = X Button
P = Y Button
K = A Button
L = B Button
; = R Button
Enter = Start
Shift = Select
More games you may like...